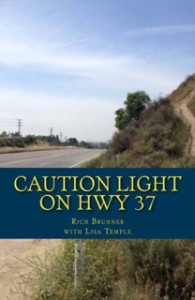 BOOK RELEASE!! Order Here 

Our book is finally published on Amazon and we are so excited! A Kindle version is coming soon.
"Caution Light is a wonderfully written book about Lisa's life journey to becoming the powerful woman that she is today. Rich's crafting of Lisa's stories is in the same vein as authors David Sedaris and Justin Halpern in finding the humor while capturing the tough situations…A must read that will bring you laughter and smiles." – Jason T. Gaffney, author/filmmaker
"A deeply touching personal tale of a small Midwestern town where buildings are like characters filled with secrets, reincarnations, and inside jokes. With characters lovingly and carefully rendered to reveal the tender underbelly of humanity and the will to survive – possibly even flourish – because of, and often in spite of, the homes of our youth." – Arianne MacBean, author/choreographer
Inspired by A Girl Named Zippy by Haven Kimmel and Bird By Bird by Anne Lamott, Caution Light on Hwy 37  is a true collaboration – Lisa told me stories and we wrote them down – and the result is a memoir that has provided laughter, poignant moments of melancholy and a profound sense of healing.