Plays & Monologues
Over the last decade, I've had the most splendid time writing for the stage. As a process of self-expression it has been cathartic, enervating and so, so freeing.
But it wasn't always so: the very first play I ever wrote no longer exists.
I wrote a dramatic one-act on a difficult subject and then had a table read. Everyone seemed to like the writing, but the lead actor was so vehement in his condemnation of the subject matter, saying, "I don't know why anyone would ever write something like this, much less put it on stage!"
In my distress and naiveté, I destroyed it.
What did I learn from that experience? FUCK. THAT. SHIT.
Since then, I've written several plays, a musical, and a set of monologues and short scenes.
Below is a brief synopsis of my most current projects.

Sentient: The Musical
Click below to listen to the instrumental demo version of the opening number:
"Rules Are Made To Be Followed"  

Sentient: The Musical is one of my most challenging projects to date! The finished musical, which is currently being submitted for the 2015 Los Angeles SciFest Short Play Festival, can only be twenty minutes in length. That's basically a fifteen page libretto with about five songs!
Set in the future (it's for SciFest, afterall) in a factory worked by robots. The robots are the brain-child of a brilliant, but physically damaged and socially demoralized young woman, Liliana. Looking to belong somewhere, Liliana is constantly 'upgrading' the robots' systems, to the consternation of the owner of the factory, her father. Liliana's latest 'upgrade' has devastating and irreversible consequences.
What people have said after reading the latest draft:
I'm not going to hold back…wow. What a brilliant project you've created here! In my eyes, this has MASSIVE potential to be a huge hit. The dialog and script is clear and concise and I can see it come alive!
As for the music, I loved the piano arpeggio motif in "Rules Are Made To Be Followed" and its slight variation – very clever. "Fight For Freedom" already sounds like an iconic musical theatre tune and I love the eerie notation and feel."If The World…" was a powerful piece and very contemplative
I am really impressed.
WOW!!!! – it is really, really strong!!!
I love that I can already hear the songs in my head – the lyrics are so well written and so melodic. The social/political themes are evident but you're not 'bible-bashing' and the characters feel like they have unique voices. It's smart! 
What people said:
The idea of the show is brilliant, truly fantastic. The monologues are well written, and striking at times. Ruth B.
I was mesmerized from beginning to end!  When I thought I knew what was going to happen, I was surprised again and again.  Laurie M.
A delightful script with a great cast! Belinda C.
It was fantastic! I loved every minute! Jerry G.
The acting was so real, so raw…what a great show! Tom C.
Thought provoking….excellent! Rachel T.
The staging was just wonderful…the way the scenes moved from one to the next was just seamless.  I had read the script before the show and was absolutely thrilled to see it staged…truly exceeded my expectations! James K.
Such wonderful writing: interesting characters, intriguing story, complicated relationships and all handled very skillfully. Nancy B.
Wonderful dialogue! Brian D.
Congratulations on such a successful staging of your work…I am encouraging everyone I know to attend this engaging production! Phillip M.

Fugue States: Monologues and Short Plays about Life's Circuitous Path
Fugue States is a set of twelve monologues (listed below) and three short plays (Breakfast, Lunch, and Dinner) designed to exploit the canonic ideas of Baroque counterpoint while tackling contemporary problems. Influenced by Jane Martin's play Talking With and the book Gödel, Escher, Bach: An Eternal Golden Braid by Douglas Hofstadter (which the author described as 'a metaphorical fugue on minds and machines in the spirit of Lewis Carroll'), Fugue States offers a brief window into the lives of twelve seriously challenged people.
Acting for the Box
Drum Roll, Please!
Casting In Hell
Fugue State
Violin Scout
Like…
Talking Radio
Sure You Do
Music Of The Night
The Sexophone
Taking Class
Mad Lucy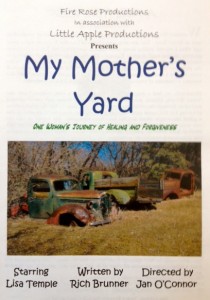 My Mother's Yard by Lisa Temple and Rich Brunner
What people said:
I'm so incredibly impressed…what an extraordinary performance! Betsy B.
Ranging from the humorous to the emotional [there are] real tears and raw emotions….the audience is caught between a very real confrontation between a woman and her mother. Lori Wilson, LA's The Place Magazine
You inspire me with this labor of love. Marjorie P.
I found the show to be poignant, moving, at times very funny, and full of insights into the challenge and complexity of family relationships. Peter W.
I enjoyed the show very much. It was so real and very moving. David W.
This is why I love theater people…for your bravery, your honesty, the brutal nakedness of the show. Doug G.